Phonotactic grammar: theories and models
September 28th – 29th, 2012
Scuola Normale Superiore – Palazzone di Cortona, Arezzo (Italy)

VENUE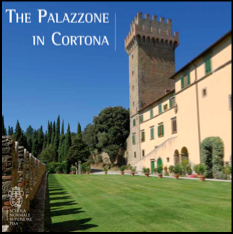 The workshop will be held in the Palazzone, a monumental villa located near Cortona, town of medieval art and architecture set in the hills of the Val di Chiana.
The Palazzone was built from 1521 to 1527 on a plan drawn up by the Perugian painter, architect and poet Giovan Battista Caporali (1476–1560), pupil of Perugino and friend of Pinturicchio, Bramante and Signorelli.
In 1968 the villa was donated by Count Lorenzo Passerini to the Scuola Normale Superiore di Pisa for its academic activities and conferences.




HOW TO ARRIVE TO CORTONA AND THE PALAZZONE

By airplane:
The international airport of Florence Peretola is about 120 km away.
The international airport of Pisa is about 220 km away.
The international airport of RomaFiumicino is about 230 km away.

By train:
Florence-Rome railway line: Terontola-Cortona or Camucia-Cortona stations.
From the stations one can easily reach Cortona by taxi or bus; the Palazzone can only be reached by taxi.

By car:
Coming from the north or south on the A1 motorway, exit at Valdichiana-Bettolle; continue on the Perugia-Bettolla link road (S75bis), direction Perugia. Exit the link road at the intersection with road number SR71, and follow the signs to Cortona.

By taxi:
Taxi service is offered by the following companies:
- Giorgio PESCI +39 360 957648
- Enzo ADREANI +39 335 8196313
- Albino CALERI +39 368 7386544
- Dejan PVRULOVIC +39 348 4023501

A journey plan (from Camucia-Cortona railway station to 'Il Palazzone') is available here. It reports the bus service and timetable.